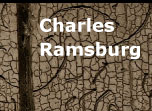 ICONS OF NATURE
© Charles Ramsburg
ICONS OF NATURE
Religious Icons are generally
seen as windows into the
ineffable, portals to the divine.
For me, looking at nature opens
a similar door. As one gets closer and closer to the natural world, what was once clearly identifiable becomes more abstract and mysterious. At the moment our perceptions shift, we are momentarily liberated from our
usual, habitual responses.
You are just there.
- Charles Ramsburg